A Brief Introduction
When I was growing up one of the first vehicles I learned to drive was my father's 1963 Chevy C60 2-ton dump truck. The truck had a 292 CID L-6 engine, a Chevy 4-speed manual transmission and a Chevy 2-speed rear axle. Garwood made the dump body and Heil supplied the hydraulic system. Named the "Blue Mule" after its dark blue color (although the original factory color was Red) and significant pulling power, the truck was a hard worker and a lot of fun to drive. However, years of Massachusetts weather and salty road conditions rotted the body badly. With each passing year, the truck was used less and less. With very little use and a corroded body, Dad ended up selling "The Mule" shortly after he bought a brand new GMC 1-ton dump truck.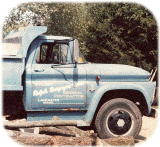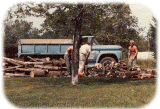 Like so many others, one of my lifelong dreams is to restore an old Chevy truck. It's easy to see that most restoration enthusiasts choose either a ½ - ton, ¾ - ton or 1-ton truck as their project vehicle. This is due to their inherent simplicity, abundance, availability of NOS or reproduction parts and street modification potential. However, for me the choice was simple when it came time to start looking for a restoration project; I wanted a medium duty truck.
Finding a medium duty truck in New England, especially one with restoration potential, would be a daunting endeavor to say the least. However, in July, 2000, I changed employers and moved from New Hampshire to Colorado. My new home in the dry mid-West renewed my desire to find a truck so I started looking in local and web-based classified advertisements. I found several interesting potentials, but most were so far away that the round trip costs to get it home made it somewhat prohibitive.
Then one day, about 3 miles from my home, I saw my ideal restoration candidate; a 1964 Chevy C60 2-ton dump truck. Talk about a nearly identical match to my ideal restoration vehicle!! The truck has a 327 CID V-8 (although, as I later found out, a much preferred 292 CID L-6 engine was original), a New Process 5-speed manual transmission and a Chevy 2-speed rear axle. It also has the desired Garwood dump body and Heil hydraulic system. After initial contact and subsequent negotiations with the seller, I bought the truck.
About This Site
The main purpose of my site is to detail the restoration process of my truck. Like most enthusiasts, this is a hobby for me and I work on my project as time and money permits. More often than not this translates to the old adage of "when you have the time you don't have the money...and when you have the money you don't have the time". Another purpose for my site is to share historical data, technical specifications and restoration information about 1960-1966 Chevy medium duty trucks. I use the internet frequently for research and participate in several discussion forums; however, as mentioned above, information on medium duty trucks is somewhat limited. As time goes on I hope that this site will become a resource for other medium duty truck enthusiasts.
Optimum viewing of this site is best achieved with a monitor resolution setting of 1024 x 768 or better.